Language apps from Teachkidslanguages in speech therapy practice
Are you a speech therapist in a free speech therapy practice and do you treat children? You can treat them more effectively from 2 (!) to 7 years old using the app Teachkidslanguages.
What is Teachkidslanguages.com?
Toddlers and preschoolers can learn 400 words with Teachkidslanguages per language offered. Teachkidslanguages is a vocabulary game that allows young children to speak Dutch, English, Spanish, Polish and Esperanto. With a little help from an adult they can soon practice independently, actually learning while playing.
Teachkidslanguages ​​is playful
The app is a visual and auditory tool. The visual aspect is diverse. Children increase their vocabulary through Learn Languages with Amy using games such as memory and quiz.
Try the app for free!
Receive a free copy of the Pro Edition and discover the many benefits of our app.
What do speech therapists say?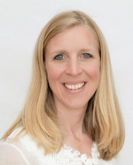 "This app is a wonderful tool for parents and professionals to enrich the language offer to children in multiple languages."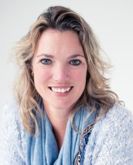 "The app is a real eye-catcher, it easily captures children's attention"
Try our apps for free!
As a speech therapist or speech therapy practice, you have the opportunity to try out our apps for free. This Free Edition has more limited options than the Pro Edition. Choose an app and view the options.
For which treatment of children is the app suitable?
In Dutch speech therapy practices the app is suitable for children with normal development as well as for children with language development problems or a small vocabulary.
Children with normal development
Children who develop normally because they are only visual and auditory. The app can already be used by children with a mental age of 2 to 3+.
Children with language development problems
The app is highly appropriate for children who have problems with their language development as this app helps to playfully expand their vocabulary.
Children with a limited vocabulary
Even children who don't speak Dutch or who have a limited vocabulary, expand it quickly with the app. For example children of expats, or children of migrants.
Children with a mental disability
The app is fun to play with regardless of the mental capacity. For many children with autism, strengthening through repetition helps them to remember and absorbs the information. That too is an effect of Learn Languages with Amy.
Increase the effect of speech therapy treatment with Teachkidslanguages
Speech therapists only have a limited number of 25-minute sessions to help children with language problems. That is why it is useful that children can practice words themselves at home with Amy . After all, the greater the Dutch vocabulary, the more they can benefit from exercises during speech therapy treatments.
The app effectively supports articulation treatments because the words are spoken quietly so that children with articulation challenges can keep up. The app makes it possible for children to observe the demonstration and then replicate it correctly.
What also happens from using our app? Non-Dutch speaking parents learn and correct their own pronunciation using the app. An added bennefit!
Why is the app's multilingualism extra handy?
Parents who do not speak Dutch come into the speech therapy practice with their own native language. When a diagnosis is made with the help of parents through multilingual research the app can help to start treatment in the native language.
Origin words in the app
The words in the Dutch version are taken from the Amsterdam Basic Glossary for Preschoolers (BAK lists). This list is seen as the foundation for building vocabulary. These words are also automatically included in the list of other languages. The app forms an excellent basis for first contact with the language.
Try the app for free!
Receive a free copy of the Pro Edition and discover the many benefits of our app.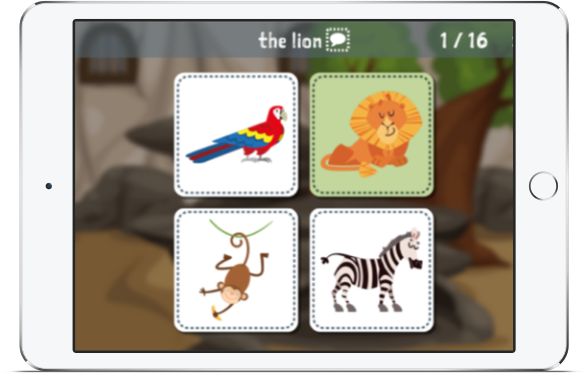 Strengths of Teachkidslanguages
Excellent pronunciation, because it is spoken by native speakers
Excellent translated by professional translators
Playful and therefore stimulating
Multilingual
Affordable
Easily accessible with a tablet
Results are automatically recorded
Coming soon: follow the progress
A special portal for speech therapists will soon be available. The portal offers the following options:
Let 10 children use the Pro Edition of the app for a fixed amount per month
View the activities and test results per child
Give children easy access, without in-app purchase
€ 2995 per month
(for 10 children, € 2.50 per additional child per month)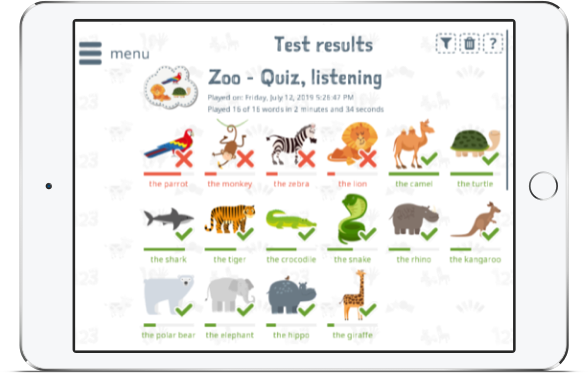 Start helping children even better!
Experience the many benefits that our app offers speech therapists!
The instructions for parents can be printed out and given to parents to install the app at home.